Published by

admin

on Thu, 15/05/2014 - 12:18am


Kidz Church is for school years 1 - 6 and meets on the 4th Sunday of every month. Our sunday morning children's groups 'Ignite & Blaze' join together to make up Kidz church and together the team put on an action packed, fun filled and biblical programme. The motto for Kidz Church is "Teaching children to tell of your strength!" which puts the emphasis not just on their learning but on their actions too.      
Aims:-
To share Jesus' love and the Gospel with fun and in a relevant way
To provide a safe environment for fun and friendship
To reach children in the local community
To build relationships with all who come
To encourage those who attend to be part of the wider church family and bring them into a personal relationship with Jesus
As a general rule, we recommend children do not enter Kidz Church until September of School Year 1 (that is, the September after they become 5 years old). Of course, there are sometimes exceptional circumstances to this, and in such cases we ask parents to discuss the matter with the Kidz Church leadership well before the start of September in the year concerned. The same principle applies to Ignite arrangements.
For more information about Kidz Church, please contact Barney or email at barney.ridgwell@skcc.info
---
Responsibility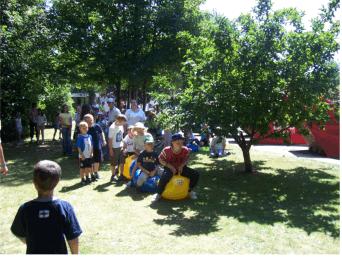 Please print off and complete the parental consent form (see link below) and return in a sealed envelope to Barney or to the church office.
Please inform the team leaders of any health problems, medical conditions or allergies your child might have, especially if these might affect him/her during their time at Kidz Church.
---
Responsibilities of Parents and Kidz Church Leaders
Children's safety and well-being are of the utmost importance to us whilst they are in our care. Our rules are very simple, based on respect for each other, for the property we own and for the building where we meet.
Our Responsibility
The team's responsibility begins when your child enters the building which should not be before 10.00 a.m. and ends at 12.00 p.m. when the main church meeting finishes, unless you have been advised otherwise. 
During these times and on any other occasion the Kidz Church team will provide care and supervision appropriate to the ages of the children and the activities being run.  All leaders and helpers are familiar with the SKCC Safeguarding Policy which is based on guidelines for voluntary youth workers given by the Home Office (a copy is available via our church office).
---